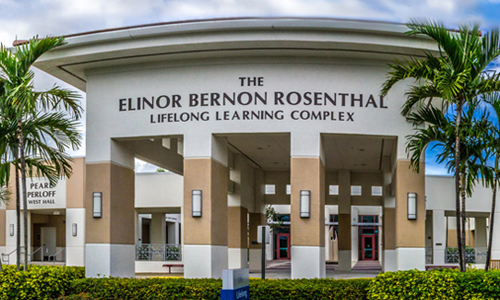 The Lifelong Learning Society at FAU Jupiter is dedicated to enriching the lives of individuals by offering non-credit, university level courses with no homework, grades or tests. This community of learners of all ages enjoys their own curriculum, along with concerts and entertainment.
The LLS program, established in 1980 on the Boca Raton campus,and implemented in
northern Palm Beach County in 1997, grew from 120 to more than 7,100 students and over 20,000 class registrations. There are now more than 70 courses available, taught by FAU professors and distinguished guest lecturers from October through July. Course offerings include such varied subjects as foreign policy, music, art, history, science, literature, philosophy, current events and films.
In August 2005, the new Elinor Bernon Rosenthal Lifelong Learning Complex was completed. The complex houses the Tamar and Milton Maltz Center for Education - a 500-seat, state-of-the-art auditorium - and the Perloff East and West wings, which consist of three classrooms and the LLS administrative offices. Phone: 561-799-8667