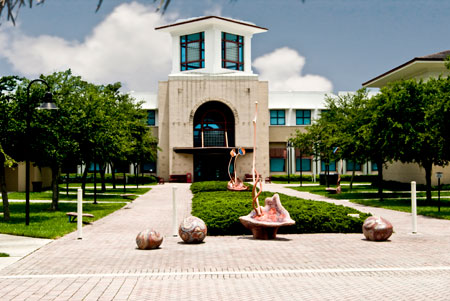 FAU's JOHN D. MACARTHUR CAMPUS – JUPITER, FL
Groundbreaking Programs – Unmatched Opportunities
Florida Atlantic University's John D. MacArthur Campus in Jupiter is where groundbreaking programs in research and education create unmatched opportunities for the best and brightest students. It's where FAU converges on site with two of the world's leading research organizations, the Max Planck Florida Institute for Neuroscience and Scripps Research Institute, to offer high school, undergraduate and graduate students transformational experiences not found anywhere else in the world.
Located 25 minutes north of FAU's main campus in Boca Raton, FL, FAU Jupiter is home to the nationally-ranked Harriet L. Wilkes Honors College and faculty labs from the Charles E. Schmidt College of Science. Recognized as a center of scientific activity, the campus also serves as the headquarters for two of FAU's primary research organizations, the Brain Institute and the Institute for Human Health and Disease Intervention (I-HEALTH).
In addition, the College of Education hosts teacher education coursework, its one-of-a-kind Academy for Community Inclusion and the community-centered Center for Autism and Related Disabilities (CARD). The Osher Lifelong Learning Institute, Jupiter housed in the Elinor Bernon Rosenthal Lifelong Learning Complex on campus, is the largest membership organization of its kind in the country delivering personal enrichment courses covering a broad range of stimulating topics, taught by leading experts.
FAU's rapid ascent to the national stage is fueled in part by the tremendous offerings on its John D. MacArthur Campus in Jupiter, FL. Since its opening in Fall 1999, groundbreaking programs and unmatched opportunities remain the hallmark of this unique FAU location